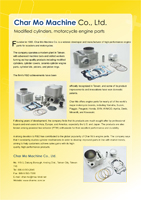 Founded in 1983, Char Mo Machine Co. is a veteran developer and manufacturer of high-performance engine parts for scooters and motorcycles.
The company operates a modern plant in Taiwan, with advanced machine tools and skilled workers turning out top-quality products including modified cylinders, cylinder covers, ceramic-cylinder engine parts, cylinder kits, pistons, and piston rings.
The firm's R&D achievements have been officially recognized in Taiwan, and some of its product improvements and innovations have won domestic patents.
Char Mo offers engine parts for nearly all of the world's major motorcycle brands, including Yamaha, Suzuki, Piaggio, Peugeot, Honda, SYM, KYMCO, Aprilia, Derbi, Minarelli, and Kawasaki.
Following years of development, the company finds that its products are much sought-after by professional buyers and end-users in Asia, Europe, and America, especially the U.S. and Japan. The products are also known among powered two-wheeler (PTW) enthusiasts for their excellent performance and durability.
A strong devotion to R&D has contributed to the global popularity of Char Mo's engine parts. The company says that it constantly studies cylinder mechanisms in order to develop improved parts in line with market trends, aiming to help customers achieve sales gains with its high-quality, high-performance products.