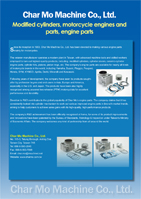 Since its inception in 1983, Char Mo Machine Co., Ltd. has been devoted to making various engine parts mainly for motorcycles.
The veteran manufacturer operates a modern plant in Taiwan, with advanced machine tools and skilled workers employed to turn out highest-quality products, including modified cylinders, cylinder covers, ceramic-cylinder engine parts, cylinder kits, pistons, piston rings, etc. The company's engine parts are available for nearly all kinds of motorcycle brands in the world, including Yamaha, Suzuki, Piaggio, Peugeot, Honda, SYM, KYMCO, Aprilia, Derbi, Minarelli and Kawasaki.
Following years of development, the company have seen its products sought-after by profession buyers and end-users in Asia, Europe and America, especially in the U.S. and Japan. The products have been also highly recognized among powered two-wheeler (PTW) motorcyclists for excellent performance and durability.
Devotion to R&D contributes to the global popularity of Char Mo's engine parts. The company claims that it has consistently looked into cylinder mechanism to work out various improved engine parts in line with market trends, aiming to help customers to achieve sales gains with its high-quality, high-performance products.
The company's R&D achievement has been officially recognized at home, for some of its product improvements and innovations have been patented by the Bureau of Standards, Metrology & Inspection under Taiwan's Ministry of Economic Affairs. The company welcomes any kind of partnership from all around the world.